DISCLAIMER: The links in this post contain affiliate links and I will receive a small commission if you make a purchase after clicking on my link.
---
If you didn't already know, I'm a part of the affiliate team with Target online. This means I get a small commission from them when readers use my dedicated link to shop with. And now through the end of January, I can earn a little extra which would be so helpful with the holidays coming up. So, if you're planning on purchasing something through Target online, please consider using my link! I would greatly appreciate it!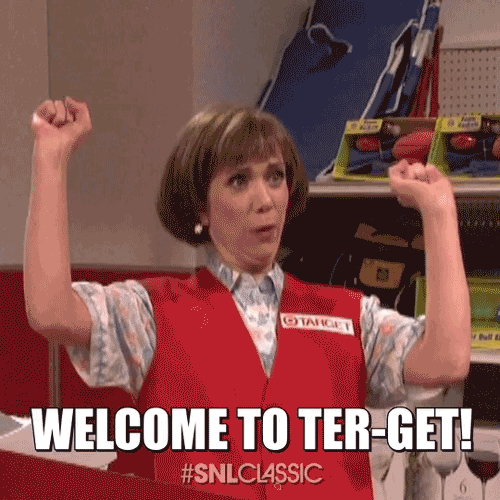 I was a fan of Target long before I joined their program and long before they were in Birmingham. I'm not sure at what point they moved up here, but I remember going to Target when I would visit my grandmother in Panama City Beach, FL. My mother loved stopping in to grab lunches and beach things for us. Literally, it was like going to Disney World when we went to Target. The truth is, and I'm not getting paid to say this, their products are made to last, the prices are reasonable and affordable, and the look of their home decor section is that of a high-end boutique. You can't go wrong. Plus, they have fresh and delicious deli meats and produce and their flower section is always great. You just can't beat it. When I need a gift, a new lamp, or some storage containers it's Target I head to first. The best part about Target is…
…the clearance end caps! That's where you can find the best stuff marked 50-70% off!
Every other week or so, I get a letter from the affiliate program highlighting the deals that are going on. I used to update my right sidebar with the deals, but I noticed many people didn't think to look there. So now, I'm going to (try) to do a post on Saturdays just for Target! There are so many great deals, how could I not share them with you?
November is Target's Baby Gear Mega Sale and I know many of you will be traveling with little ones to spend time with family and friends over the holidays. So everything from strollers to car seats to high chairs to play mats are on sale. That's more than 300 items, guys. If you don't have a baby, just borrow one and get to shopping!
In addition, there are many other things to get excited for this month: cooler weather (finally!), the end of Daylight Savings (hallelujah!), and Thanksgiving (no caption here needed.). To get you ready for the healthiest day of the year, Target is also offering considerable savings on kid's outwear, daylight savings prep, household items and more. Check out the full list below.
Kids' Outerwear | Baby Gear Mega Sale | Daylight Savings Prep | Apple Watch
All promotions:
These promos are for online purchases only. Pay close attention to the run dates so you don't miss out on a great opportunity! Affiliate links have been added. 

Apparel, Shoes and Accessories

Home & Outdoor
Save 20% when you spend $75 on
Clothing, Shoes and Accessories
for the whole familyrun dates: 11/01/2015 – 11/07/2015
Merry Monday: 3 ways to save on Furniture: Spend $500, save $200; Spend $400, save $150; or Spend $250, save $75

run dates: 11/01/2015 – 11/07/2015

Home & Outdoor

Home & Outdoor
Preview Faribault Woolen Mill
Company. Exclusive goods woven
and sewn entirely by American
artisans. Available for a limited time

run dates: 11/01/2015 – 11/07/2015
30% off Upholstered Chairs

run dates: 11/05/2015 only

Home & Outdoor

Home & Personal Electronics
Save 25% on Bed and Bath items

run dates: 11/07/2015 only

Free $50 gift card when you buy Beats Wireless Headphones. No strings attached

run dates: 11/01/2015 – 11/07/2015

Housewares, Auto & Hardware

Housewares, Auto & Hardware
Save 40% on Fryers and Grills

run dates: 11/03/2015 only

Save 30% on Kitchen items for Thanksgiving Prep

run dates: 11/04/2015 only

Housewares, Auto & Hardware

Housewares, Auto & Hardware
Save 20% on Dinnerware sets
(online only)run dates: 11/01/2015 – 11/07/2015
30% off Rachael Ray Cook and Bakeware with promo code RACHAEL30

run dates: 11/06/2015 only

Toys & Games
Save up to 25% on Minecraft, WWE & Star Wars Micro Machines

run dates: 11/01/2015 – 11/07/2015
---
Happy shopping!
xxx